GOMPERS DISTILLERY INDIEGOGO CAMPAIGN:
Invite your friends, Earn cool rewards!
How Our Referral Program Works
1. Sign up for Indiegogo
2. Copy your unique sharing link located next to our video
3. Share your unique link with other cocktail and spirit lovers via email and social media
4. Earn rewards!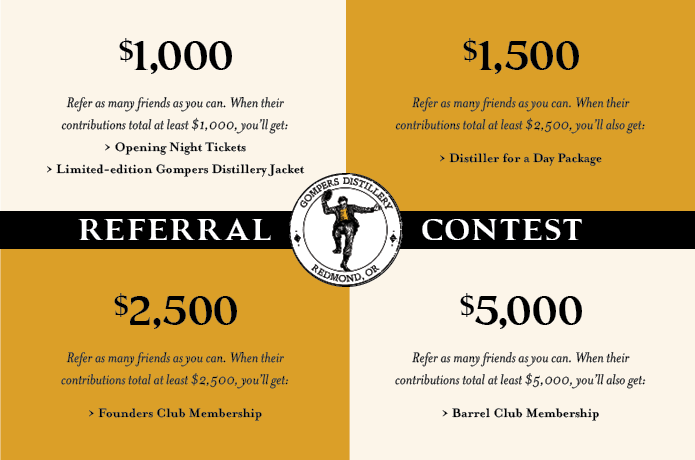 We need your help.
For our Indiegogo campaign to succeed we need help spreading the word. That's why we created a system to make it easy for you to share our Indiegogo campaign with your friends and family ? and earn some amazing rewards.
All you have to do is copy the unique "share this campaign" link on the Gompers Distillery Indiegogo page (it's right next to the video) and then share that link with friends, family and other craft spirit lovers. Paste it in an email to your cocktail loving friends, post it on Instagram, Facebook or Twitter, or anywhere else you'd like.
PRIZES:
Referral contributions of $1,000 or more get tickets to opening night and a limited-edition Gompers Distillery jacket
Referral contributions of $1,500 also get our Distiller for a Day Package
Referral contributions of $2,500 also get membership to our Founders Club
Referral contributions of $5,000 also get membership to our Barrel Club
How to Get Your Referral Link
1. Sign up for Indiegogo. You only need to enter your name, email and password (10 sec). Anyone can do this, you do not need to fund a campaign first.
2. Sign in to Indiegogo. The page will generate your unique referral link code, you can find the link to the right of our video.
3. Copy that link and paste it in an email to your spirit-loving friends, post it on any social media website, etc. Then, when people click through your unique link, they will be directed to our campaign page and their activity will be registered under your referral. If they contribute, we?ll know it?s coming from you.
How to Easily Track Your Referrals
1. Log into Indiegogo.
2. Click on your user name at the top right of the page.
3. Select ?Profile? from the menu to open your profile.
4. Click on "Referral" and you will see your referral activity.
How to Boost Your Results
The best way to compel your friends to help our campaign is to be genuine and honest about why our family-owned distillery is important to you.
Use photos or videos to help make your social media content stand out from the crowd. We have lots of images and videos on our Indiegogo campaign page and you are welcome to reuse whatever you want.
You can also cut and paste any of these ready-made content suggestions:
I'm supporting the opening of the first distillery in Redmond, Gompers Distillery. Will you join me? [insert your personal link]
If you love craft spirits, visiting tasting rooms and have always wanted to access a secret VIP room, check out Gompers Distillery?[insert your personal link]
Gin is my jam and I'm supporting the opening of the first distillery in Redmond, OR – Gompers Distillery. Want to join me???[insert your personal link]
Don't be ordinary. Gompers Distillery is family-owned and named after the owners grandpa, Herman Gompers, a Holocaust survivor. They say he was a fun, happy go lucky jokester that was far from ordinary. I'm supporting their Indiegogo campaign, will you??[insert your personal link]
FAQ
1. Can you refer yourself? No, you can only invite friends.
2. When will you get your rewards? At the end of the campaign. If you are a non-financial backer, we will send you an email requesting your mailing information.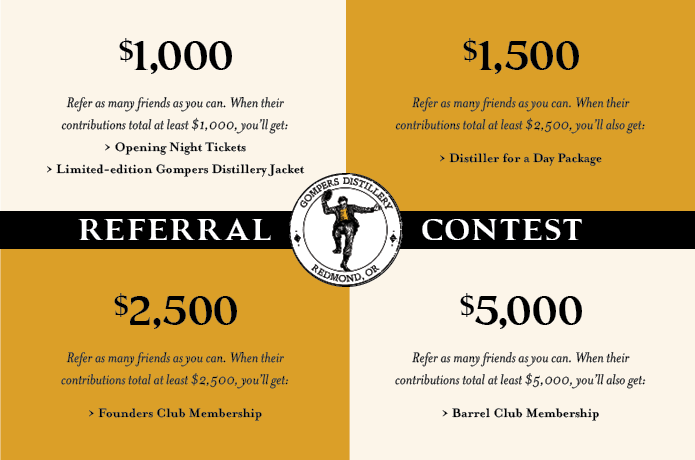 Hours
Mon-Wed by appointment
Thurs-Sat noon - 7pm
Sunday - closed